Natalie Duncan is serving a one-year term with VISTA, Volunteers in Service to America. VISTA is a federal program that allows professionals of all ages to serve for terms within organizations they are passionate about to help build capacity and increase sustainability of the programs, long-term. As a Member of VISTA, Natalie works with CASA, Court Appointed Special Advocates. CASA of Bradley & Polk Counties is a non-profit that works with local volunteers to make sure the voices of abused and neglected children are heard. CASA volunteers are everyday citizens appointed by judges to advocate for the safety and well-being of children who have an unstable home situation.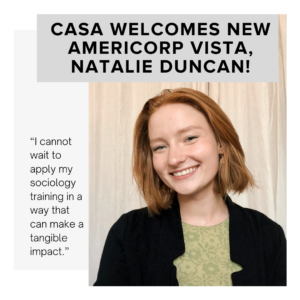 These volunteers speak on behalf of a vulnerable child and represent their best interests in court. As a Vista with CASA of Bradley & Polk County, CASA is utilizing Natalie's term to recruit new CASA volunteer advocates. The motto of VISTA is "Get. Things. Done!" and Natalie plans to assist both VISTA and CASA with this enthusiasm.
Natalie will graduate with a degree in Sociology in December of 2022. She is pursuing a career in nonprofit and public service, and looks forward to her time with CASA gaining experience for her future endeavors.
"I cannot wait to apply my sociology training in a way that can make a tangible impact."
In her free time, she enjoys baking, hiking and reading. When not studying or volunteering, she can be found at the local library or the local rock climbing gym.